MilesWeb Review: Managed WordPress Hosting for an eCommerce Site
E-Commerce has brought a revolution in the way of doing business. All enterprises, irrespective of their size, have realized the importance of online business. Websites have now become indispensable assets for entrepreneurs and have opened a new horizon. With a website, you do not limit your trade to a particular region to a few people. Instead, you are open to billions of internet users worldwide.
Many small-tie startups and small and medium enterprises SMEs have turned their luck around by adopting eCommerce.
What's more, creating an eCommerce website is a lot easier now than before with the help of content management systems or CMS applications. Among the CMS applications, WordPress is the one that is by far the most popular and widespread. It should come as no surprise when the statistics show that 34% of all websites on the internet use WordPress as their CMS. And, the number is increasing.
Owing to its versatility and easy implementation, many startups and businesses have started using WordPress for their Best eCommerce Platforms.
WordPress for eCommerce Websites
Websites have to have certain characteristics to pass as eCommerce sites.
The website must be easy to navigate and browse by putting products into categories.
The products must be lined in a way that the visitors will easily distinguish between them.
The website must be secure to keep the personal information of customers safe.
The payment portal or transaction platform must be easy-to-use, secure and fast.
The customers must be able to track their orders online and contact the support.
That said, creating eCommerce websites with the help of WordPress is easy and pocket-friendly. You can design a perfect eCommerce website by choosing from its many themes and plugins.
WordPress has a collection of special plugins that adds eCommerce functionality to your website. Plugins like WooCommerce, Shopify, BigCommerce, etc. make your website appear and operate as a perfect online store.
Of course, something so good always has its drawbacks.
A shared hosting service is not easy to manage and maintain an eCommerce website. It takes dedicated effort and vigilance to host an online selling platform on web hosting. It is not something a full-time business owner will be able to do. Thus, it is easier to opt for WordPress hosting.
Exclusive for WordPress users, WordPress hosting service makes the configuration and maintenance of the website and hosting easier. The provider optimizes the hosting to suit WordPress websites by conditioning it to support the plugins and other WordPress-based applications.
An enhanced version of this service is the managed WordPress hosting.
Managed WordPress Hosting
As mentioned earlier, it is not easy for full-time business owners to manage the hosting for the websites. Their hands are already full trying to make ends meet with their deals, supply chain, marketing, etc.
Sure, WordPress hosting eases most of their pains but, they can never neglect the maintenance routines. One slip in their actions is enough to cause performance issues with the website meaning the online business will suffer. That said, with managed WordPress hosting, this issue will seldomly occur.
The provider looks after the managed WordPress hosting as you look after your business.
The provider optimizes the server, installs updates and notifies when your service package needs an update.
Most providers offer dedicated technical support for their managed WordPress hosting to add more value.
Some providers offer assistance and consultation for creating or improving your WordPress website.
If you are looking for a hosting provider with a decent managed WordPress hosting service, you should see to it that they at least provide that much.
This brings me to say that MilesWeb offers a managed WordPress hosting service that would be the perfect fit for your eCommerce platform.
Why Managed WordPress Hosting of MilesWeb is Perfect for an eCommerce Website?
As one of the leading and most trusted hosting companies out there, MilesWeb has cut no corners with its hosting services. That goes double for its managed WordPress hosting service. The sheer features of the service make it ideal for hosting eCommerce platforms giving a perfect mix of speed, security and performance.
SSD Memory
In terms of performance, SSD disk drives are 200% faster compared to regular disk drives. With its SSD-laced servers, managed WordPress hosting of MilesWeb offers fast uploading and downloading, which in turn increases the browsing experience.
Free SSL
MilesWeb offers SSL certification of year completely free with all the managed WordPress hosting packages. An SSL certification is a must for an online store as it indicates the site is safe. Since SSL certification is not cheap to procure, you can save a lot of money with MilesWeb.
Caching
The WordPress website gathers cache each day that puts a load on the server, hindering the performance of the online store. MilesWeb has a team of technicians that monitor your managed WordPress hosting and clears the cache.
GZIP/Brotli Compression
MilesWeb offers gzip compression software application that is a tool to reduce data size. It increases the page loading and browsing speeds dramatically.
CDN
An advanced version of gzip compression software, CDN expands the reach of your website and improves its performance. MilesWeb integrates the CDN service with all of its hosting plans.
Daily Backups
Data backups are lifesavers! Although the managed WordPress hosting service is secure, it doesn't guarantee safety from accidental data deletion and other hazards. MilesWeb takes the backups of the data files daily.
Affordable
MilesWeb offers the cheapest managed WordPress hosting in the market. Their hosting plans start at ₹40 per month.
Here are the managed WordPress hosting service packages: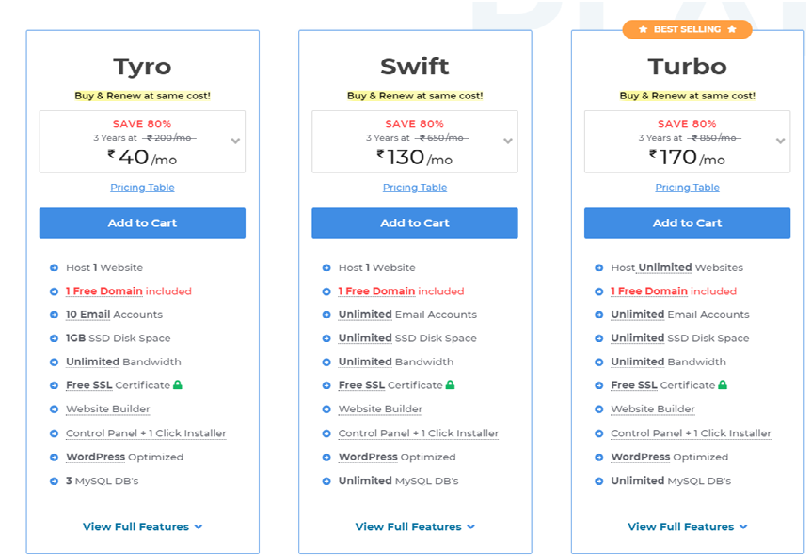 Final Word
eCommerce has become a very part of our modern culture.
WordPress is the perfect tool for creating websites to start your business online.
If you are planning to launch your eCommerce store online, you need a provider with a hosting service that aligns with your website, more so if you have a WordPress website.
MilesWeb offers perfect hosting for eCommerce platforms in the form of managed WordPress hosting services.